MONTFORT HOSPITAL BOILER AND CHILLER PLANT
This project completed by Mansour Keenan and Associates was completed in 2001.
The project involved total rehabilitation of the existing steam plant and steam distribution system as well as adding 700 tons to the chilled water plant capacity.
MONTFORT HOSPITAL EMERGENCY DEPT RENOVATION
Sub Heading
The Montfort Hospital decided in 2002 to revamp the way they deliver emergency care.
The emergency department was totally renovated to a more open concept.
MEL was selected to provide total mechanical and electrical engineering services for this project.
MONTFORT HOSPITAL EXPANSION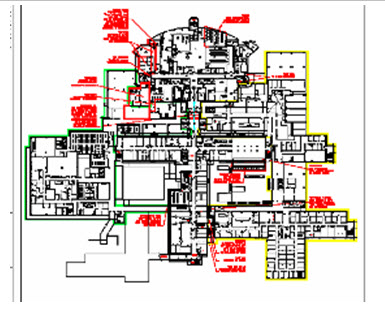 This project with a total budget of $230 Million involve the addition of two new wings and renovate existing facilities – including intensive care, maternal newborn, mental health, ambulatory care and emergency services.
The redeveloped facility will have a capacity of 417 beds (289 inpatient; 128 long-term cares) and increase the size of the hospital to 750,000 square feet.
An additional facility for treating members of the Canadian Forces, funded by the federal government, is also part of the expansion.
Construction is under way and is scheduled for completion in 2009.
Mansour Keenan and Associates are the mechanical and electrical engineers for the renovation part of the 1953 portion of the project.
MONTFORT HOSPITAL - LIFE AND SAFETY

This project with total budget of $23 million was carried out in phases from 1999 to 2003.
The project involves the total replacement of the existing mechanical and electrical systems in the original 1953 hospital.
Mansour acted as the mechanical and electrical engineers on this project.